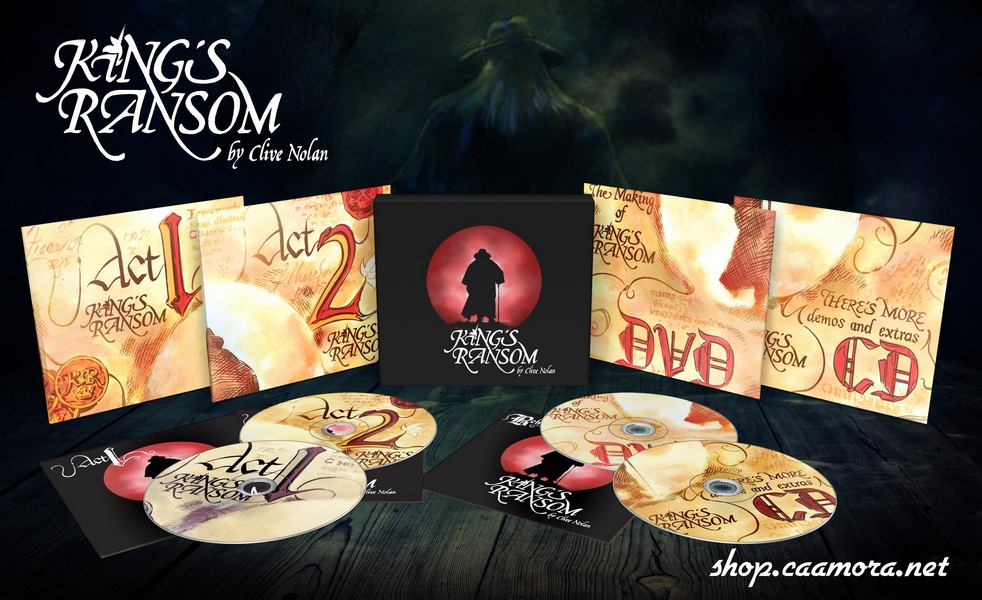 "King's Ransom", the third musical by Clive Nolan, is the next adventure of Professor King and his companions. Set in the Victorian 'Alchemy' universe, the musical is a tale steeped in political intrigue, high emotion and the all-pervasive presence of the supernatural.
Book, lyrics and music by Clive Nolan
With vocal talents of: Clive Nolan, Gemma Ashley, Guy Barnes, Verity White, Robbie Gardner, Chris Longman, Christina Booth, Alan Reed, Chris Lewis, Ross Andrews, Joy-Amy Wigman, Emily Frechter and the Caamora Chorus; and instrumentalists: Clive Nolan, Mark Westwood, Scott Higham, Kylan Amos, Penny Gee and Morten L.Clason.
Album artwork by Mark Buckingham.
Clive: "It has been several years in the making, but here it is… 'King's Ransom' the musical. To me, this is a great testament to the wonderful singers and musicians I had the pleasure of working with, and a welcome return to the 'Alchemy' universe. With this special edition I have tried to provide added insight into the making of this musical which has been such a major part of my life for the last few years. If you like the music I make, then don't miss out on this one!"
"King's Ransom" Special Edition includes:
CD 1: Act 1
CD 2: Act 2
CD 3: "There's More... Demos and Extras" (featuring original demos and alternative versions of songs from 'King's Ransom')
DVD: "The Making of 'King's Ransom'" (featuring recording footage, interviews and more insights into the creation of the musical)
This pre-order also includes an additional exclusive "King's Ransom" Karaoke CD with backing tracks to selected songs with vocals from the chosen artists – choose your solo, or sing with one of the cast members! (Available with orders made before August 1st).
Intended release: late August 2017.
More about "King's Ransom"
HERE