'Beyond the Veil' Acoustic Show DVD Pre Sale!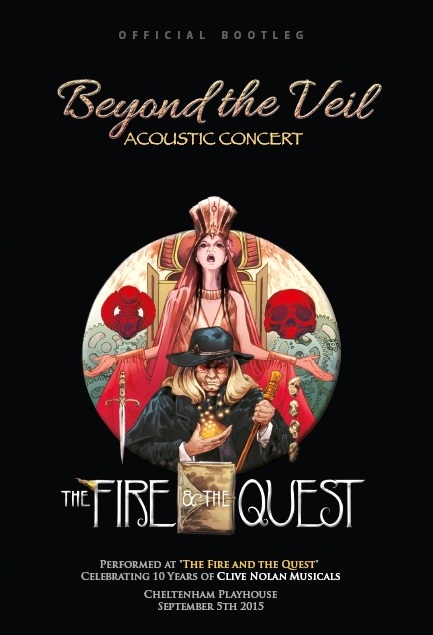 We are going to release an 'official bootleg' DVD of the acoustic show recorded during the 'Fire and the Quest' weekend in September 2015, celebrating 10 years of Clive Nolan Musicals. This show features a wide variety of Clive's material performed by a stellar cast of singers and musicians. Clive plays piano, sings and entertains alongside artists including Christina Booth, Alan Reed, Paul Manzi, Chris Lewis, Paul Scott, Agnieszka Swita, Victoria Bolley, Gemma Louise Edwards, Verity Smith, as well as the instrumental talents of Mark Westwood, Scott Higham and Kylan Amos.
The cost of the DVD package (full colour cover and 2 DVDs) is £15 and it is now available for pre-order in our ONLINE SHOP! The profits raised from this project will go towards the making of Clive's new musical 'King's Ransom'. 'Beyond the Veil' will be dispatched in August (at the latest).
Clive: "I hope this DVD will provide a wonderful memento of that terrific Saturday afternoon concert. I have compiled and edited the show in its entirety, 'warts and all', so please be aware there is a lot of chatting and story telling (you can get straight to the songs with the chapter selections). It also needs to be remembered that, sadly, the sound quality is limited because we only had the audio recorded on camera. It was a lot of fun doing this gig, and I really enjoyed working with all these excellent performers. With the challenges I now face to record the new musical, 'King's Ransom', every sale of this DVD will be a welcome contribution to the cause… Enjoy the show, and thanks in advance!"
Order 'Beyond the Veil'
HERE
'King's Ransom' is Written!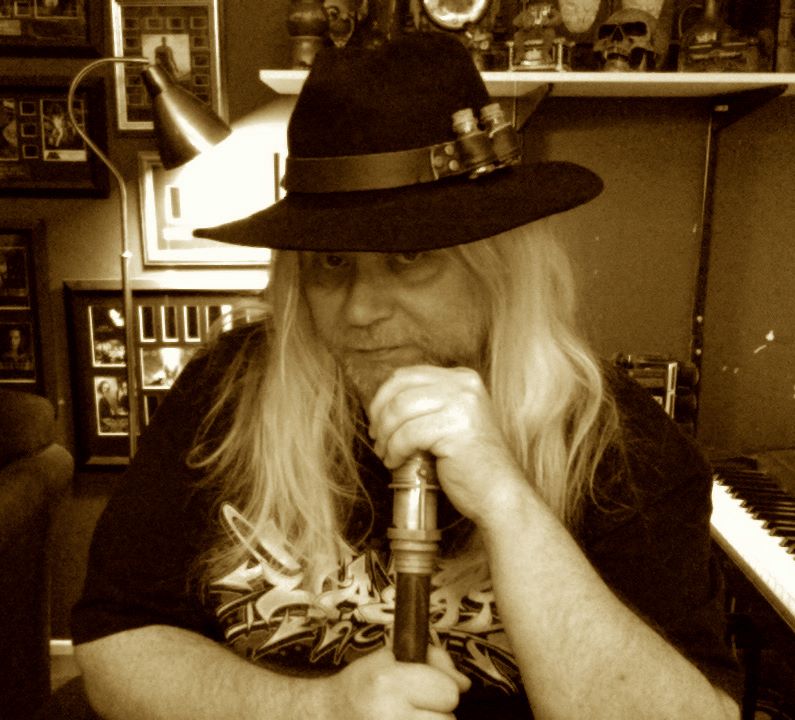 Clive: "Well, that's it! My new musical 'King's Ransom' is now written!! I managed to write this one in less than two years (despite the eye problems), which is excellent. This show is epic on all sorts of levels and features some great new characters as well as some old favourites! There's political intrigue, love, hate, action, despair, hope and a little magic all thrown into the mix.
I will spend a month or so adjusting and developing the instrumentation and orchestrations, and if all goes well, recording can begin in September.
Stand fast, and set your compass straight... King is coming back!"
Like King's Ransom Facebook page HERE
Clive Nolan and Friends October Shows in Norway!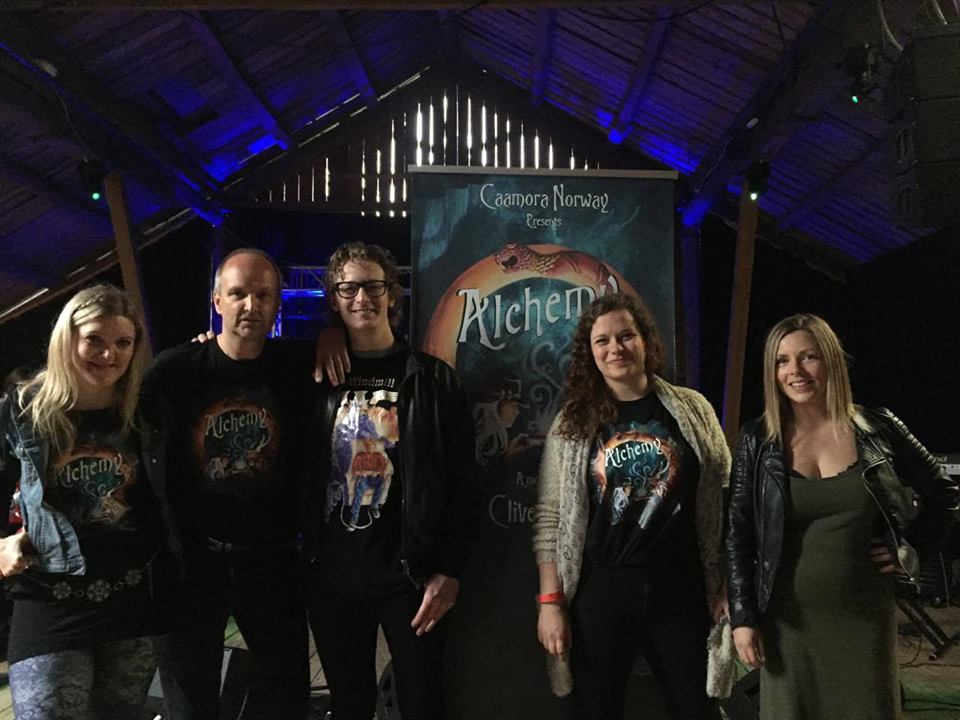 The official announcement of the Caamora Norway production of 'Alchemy' in May 2017 was made last Saturday during the We Låve Rock festival in Hurum, Norway! The members of the new cast performed a selection of songs from 'Alchemy' and the new Caamora Norway website was lounged. You can now also like Caamora Norway facebook page. The cast and more exciting news will be announced soon!
It is also with great pleasure that Caamora Norway invites you to a series of live performances by Clive Nolan and Friends on October 7th, 8th and 9th, 2016. The shows will take place in Mysen, Oslo and Sætre, Norway. These intimate acoustic concerts will feature Clive himself (vocal, keyboard), the Caamora Theatre Company original soprano, Gemma Louise Edwards (vocal), as well as Caamora Norway artists, including instrumentalists from the Norwegian progressive rock band The Windmill: Stig Andre Clason (guitar), Morten L. Clason (flute), Arnfinn Isaksen (bass) and the singers from the forthcoming Norwegian cast of 'Alchemy': Erikur Hauksson (Magic Pie), Elisabeth S. Ellingsen, Harriet Müller-Tyl and more.
Tickets and details available HERE
More about Caamora Norway HERE
Back from Pendragon Tour!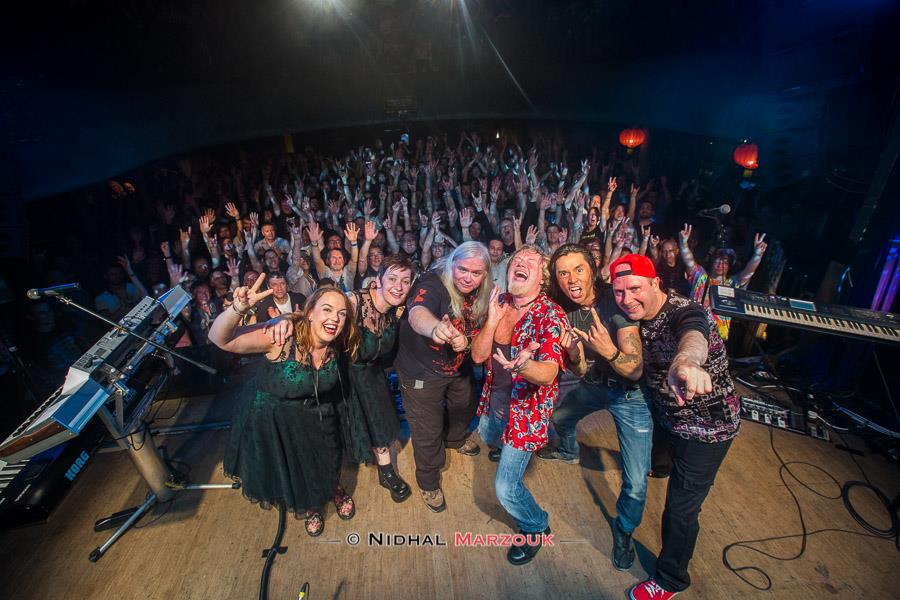 The band has just returned from their extremely successful "Masquerade Overture" 20th Anniversary tour. The band was pleased to perform in front of the enthusiastic European audience and selling out more than half of the shows was a joy. There are still a few dates left for the summer 2016. Make sure you do not miss them!
Clive: "I'm home! The end of a terrific Pendragon tour. Everyone involved did a great job and made the whole thing fun to do... and big, big thanks to all the many of you that came along to the shows... brilliant!"
More about Pendragon HERE
More News of 'King's Ransom'!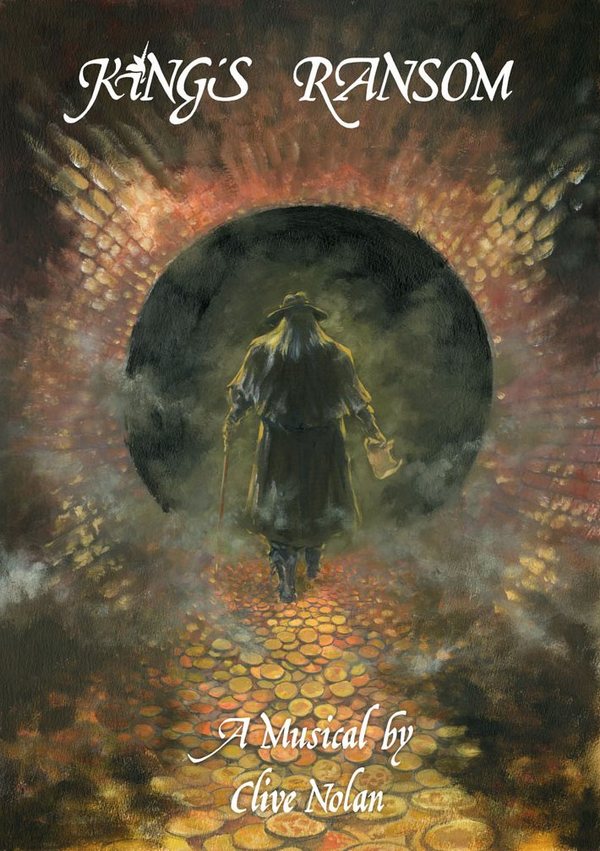 Clive: "I'm pleased to say that 'King's Ransom', my new musical will be released on 'Verglas' records! It has been the label for Arena for the last 20 years and I'm hoping some of that gold dust will rub off on this new show. King's Ransom is set in the same 'universe' as 'Alchemy' and takes place about two years after those events. The characters of Professor King, William Gardelle and Eva Bonaduce are still with us, alongside a host of new and vibrant protagonists. The 'book', lyrics and most of the music is now written, and my guess is that recording will begin in October, with a release early next year. I will announce the cast and musicians shortly.
Meanwhile, here is the wonderful artwork that will be the principal image for 'King's Ransom': this picture has been created by the excellent Mark Buckingham.
Like both the precious shows ('She' and 'Alchemy'), this has been a major writing project for me, and it's not over yet. Nevertheless, I look forward to recording 'King's Ransom', and hearing all those fantastic musicians and singers do what they do best!
I'd like to thank all of you who have been supporting my musicals over these years. I hope you will enjoy what the future holds. The adventure continues…"